Introduction
Do you know, its now possible to send SMS directly from Google Sheets, without depending on third party connectors, and tools.
You just need an account on google/gmail which is free and a standard SMS account from SMS Alert, and you are good to start sending SMS from within your SMS Sheets.
Send Personalised SMS to all your contacts, without leaving the Google Sheet tab/window.
Select/browse SMS Templates, to use in your SMS campaigns.
Keep a watch on your SMS credits for your account from within the Google Sheet.
Send an automated SMS whenever someone fills a Google form.
Send an automated SMS as soon as you enter a new record in your Google Sheet.
Installation
To enjoy all above features you just need to install our official Google Sheets Addon from G Suite marketplace and follow the steps below to setup/link your SMS Alert account with it.
Install SMS Alert Google Sheets addon
Signup on www.smsalert.co.in or if you have an existing account with us, you can use the same credentials.
Login to SMS Alert Google Sheet Addon
Send your first SMS
Our extension is smart enough to pick numbers from columns of your choice, so you can keep using your existing format for your Google sheets.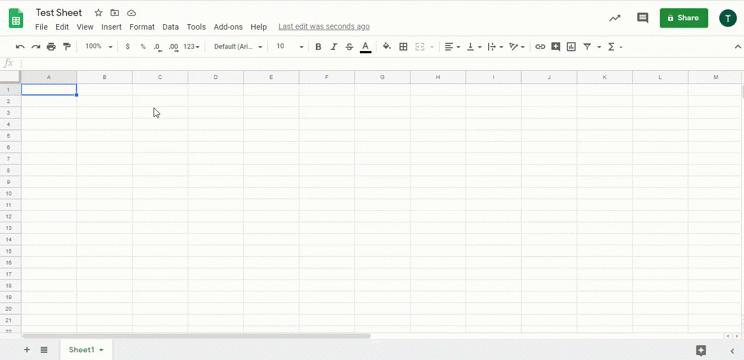 Send bulk SMS from Google Sheets
In your Google Sheet navigate to SMS Alert under Addons and click on Send SMS, you will see a SMS Alert widget on the right side of your Google Sheet.
Select appropriate Senderid and route(optional)
Select the Column containing mobile numbers of your contacts.
Compose/Browse the SMS Content to be sent.
Re-check the details above and click on Send SMS
Send a SMS automatically whenever someone fills Google Form
In your Google Sheet navigate to SMS Alert under Addons and click on Form SMS, a popup will appear.
Enable form SMS
Select appropriate Senderid and route(optional)
Select the column which will have the mobile number
Compose SMS to be sent
Click on Save
Send a SMS automatically when you enter a new record in Google Sheet manually
Create a column in your Existing Google Sheet with name Send SMS
In your Google Sheet navigate to SMS Alert under Addons and click on Auto SMS, a popup will appear.
Enable auto SMS
Select appropriate Senderid and route(optional)
Select the column which will have the mobile number
Compose SMS to be sent
Click on Save
Whenever you need to send a SMS to any record, just write YES in the Send SMS column