How to use SMS Alert with OpenCart.
Among the variety of available shopping carts, OpenCart is one of the best solution for online or eCommerce business. If you are an owner of any online business, you will surely be needing a shopping functionality in your website and OpenCart is one of the easy option to help you and your customers to complete the shopping task easily and efficiently.
It is very easy to use. Vouchers are simply installed, you can select from your template, add product and you're ready, it is that simple. We have developed a free OpenCart plugin for sending SMS.
Pre-requisite 
This plugin requires vQmod which can be downloaded from here
Installation 
First Go to Market place of opencart and download SMS Alert or you can Click on the below link to download the app
Download SMS Alert for Opencart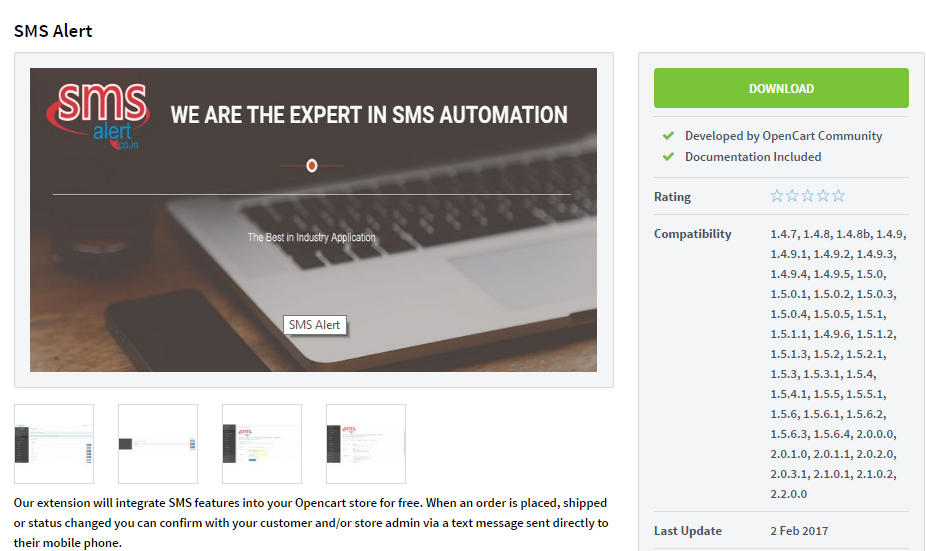 Download the app and install it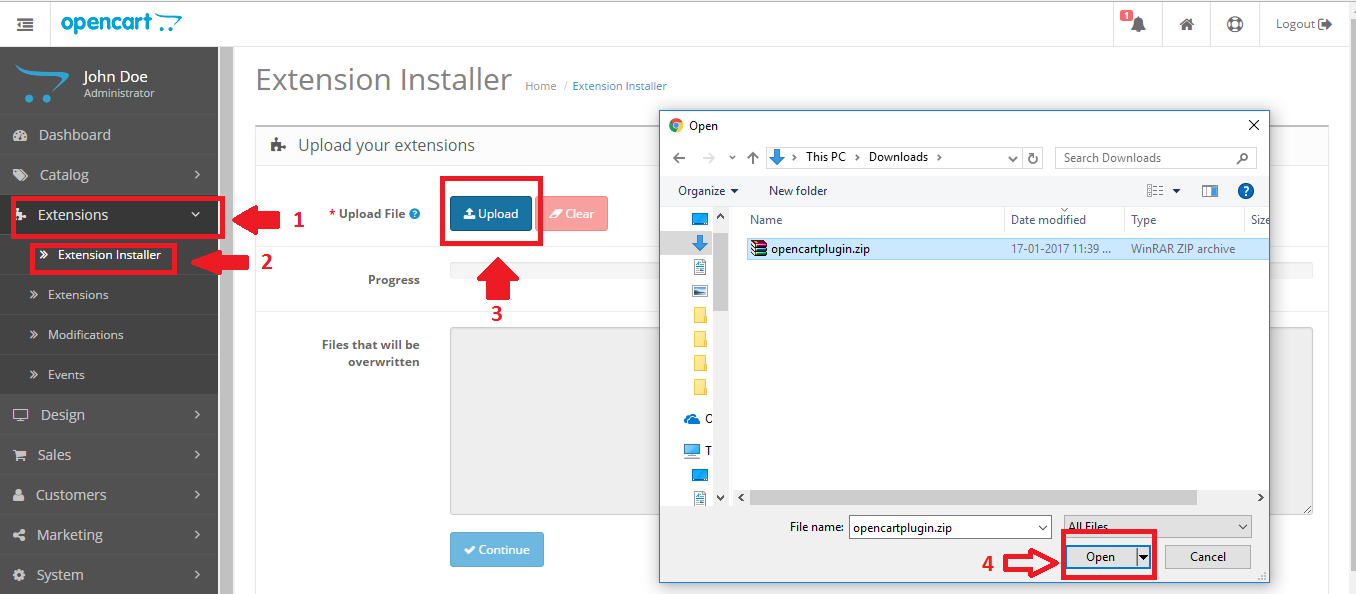 After you upload the plugin into opencart.
Now go to the System>>Users>>User Group  here two options are available, one is for Administrator group and other is for Demonstration click on the Administrator group.

Here you will find all the modules which are uploaded. In the listed modules search for SMS Alert and give permission to access and modify that for Administrator group.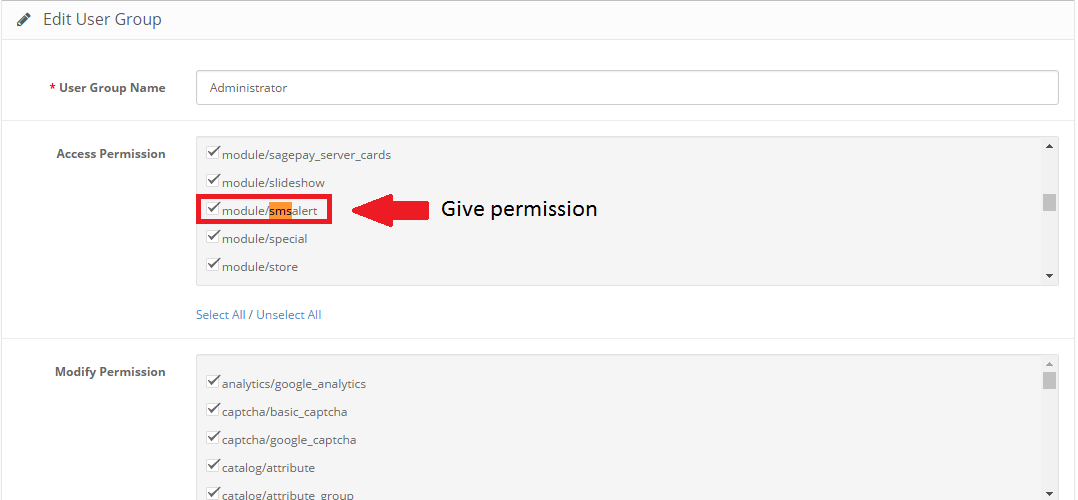 Now for the final step of installation
We highly recommend our customer to create backup of the site.
Now open you browser and type the url  https://l"Your Domain name"/vqmod/install/ 
you will get a message like this VQMOD HAS BEEN INSTALLED IN YOUR SYSTEM
or if already installed you will see a message like this VQMOD ALREADY INSTALLED!

Now go to Extensions select module. Here All the modules are listed.

Now Select the SMS Alert  and click on 1-install. After installing SMS Alert, click on the 2 – edit button.

When you will click on the edit button, here you need to fill in the following necessary fields. Enter SMS Alert 1-user name  2- password -3 click on verify api 4- save the remaining settings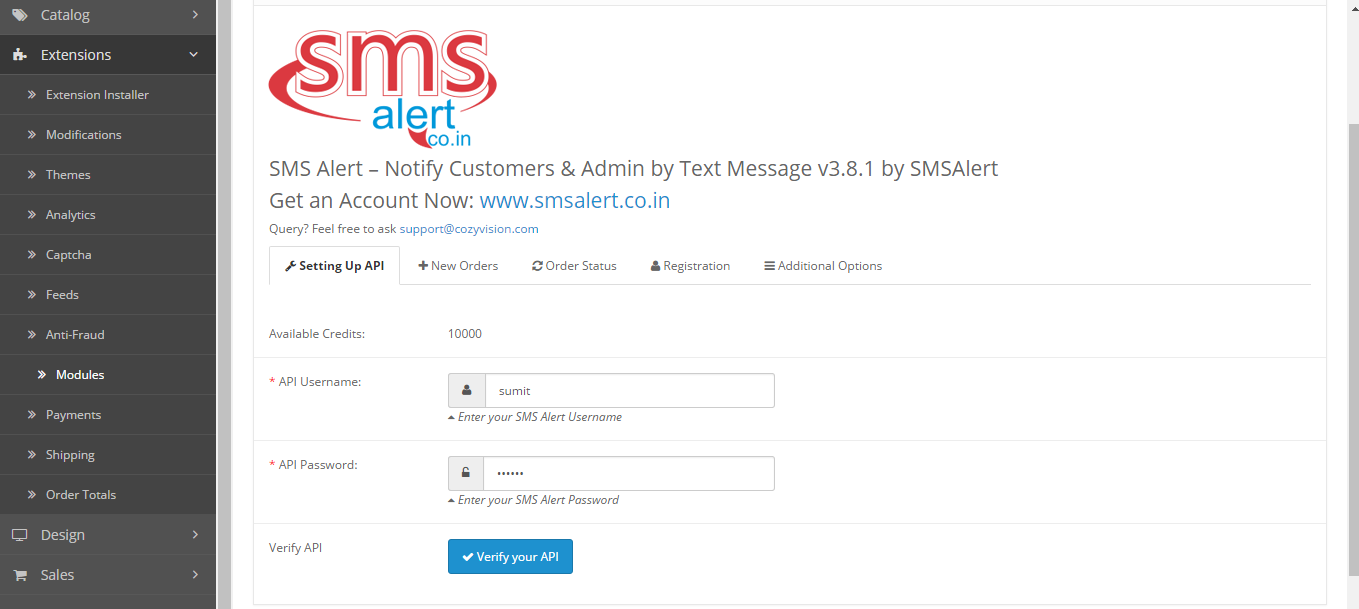 Installation is done and it is ready to use.