WHAT IS SENDER ID
Sender ID is your identity from which the message is sent. Sender ID is the ID you choose on the panel or the one that is given to you.
Sender ID should be of 6 characters consisting of alphabets, that may in capital letter or small letter or mix of both for e.g. CVTECH, but there should not be any number or any special character.
Sender ID should not be by any personal name, it should be in the name of a Company, Organization, Institution or any project you are dealing with.
In sender ID the first two letters are operator prefix. For e.g. AD, IM. Here A stands for operator code i.e. Airtel and D stand for circle code i.e. Delhi, similarly I stands for Idea and M stands for Maharashtra.
WHAT IS THE USE OF SENDER ID
It is useful, if you have multiple departments within you Business, Organization or you are running a campaign and you need to send messages to lots of different groups, in this case sender ID is very helpful.
Sender ID will increase more chance of your text message being read. It helps your customer to recognize you in his mobile inbox, when compared to a message appearing from an unknown number.
HOW CAN I GET SENDER ID FOR MY ENTITY NAME
It's a very simple process to get sender ID for your entity name. You just need to follow few simple steps as shown below: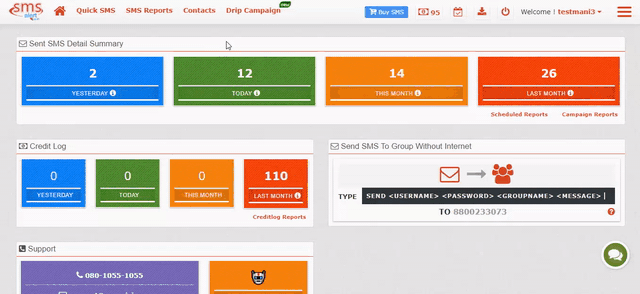 Go to the manage button in the menu and then click on sender ID.
After that on the right hand side of the menu there is an option to add sender ID, click on that.
Now you need to fill the for, mentioned below, after completing the form, wait for your approval.
NOTE
Dear customer, we request you to approval for sender ID prior 1 or 2 days before any campaigns. Because the sender ID get approved by TRAI and it can take 6 hours to 2 days.