SMS Alert for Woo Commerce.
WooCommerce has everything you need to get your eCommerce business up and running. It is a powerful and dynamic e-commerce plugin that helps you sell any of your product beautifully. Integrating SMS with WooCommerce will help your business in sending out quick SMS notifications to your customers pertaining delivery-status and transaction.
Used by million of brands of all sizes, it offers both basic and advanced features to help you grow and manage your eCommerce business. This is also a very smart way to keep in touch with your customers and letting them know about your latest offers and discounts.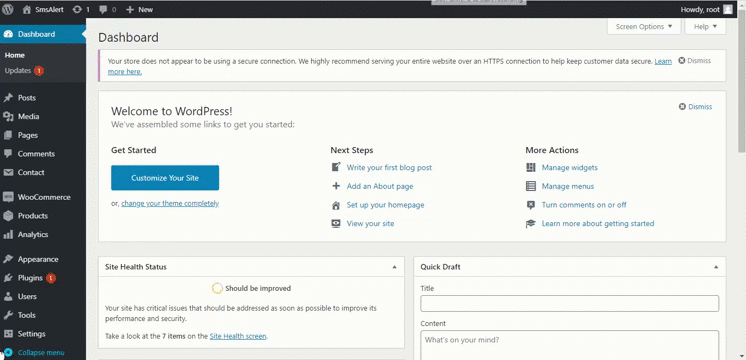 How to install SMS Alert for Woo Commerce.
First log in to your WordPress account go to plugins on the left side of the menu options and click on add new button.
In this section, search for SMS Alert option and click on install now button
After the installation is completed, click on activate button.
How To Configure SMS Alert
Here you need to go to the WooCommerce setting option and then click on the SMS Alert tab, and in general settings fill your username and password for www.smsalert.co.in, click on verify and continue, and save changes.
Now in Customer Notifications, enable the SMS Events and Write the SMS content you want to send in text area, at different order status's.
Enable Admin notifications
To Enable OTP for checkout, login and registration, go to OTP settings, here you can also change text of the button that you see on checkout
These are the SMS Notifications that will be delivered to the customers at the time of purchasing any product and other status.
FAQ's
I signed up for a demo account, but not received any test sms


As per TRAI Guidelines promotional sms can be sent only from 9 am to 9 pm, please test during this period only, also check if your number is not registered in NDNC registry. If still you face any issues, please contact our support team.

I am unable to login to my wordpress admin


This can happen in two cases like you do not have sms credits in your sms alert account, or your admin profile has some other number registered, for both cases you can rename the plugin directory in your wordpress plugin directory via FTP, to disable the plugin

How can i use my custom variables in sms templates?


The plugin supports custom order post meta, if your post meta key is '_my_custom_key', then you can access it in sms templates as [my_custom_key]

Can i extend the functionality of this plugin?


Sure, you can use our hooks to extend the functionality.

To send SMS

do_action('sa_send_sms', '918010551055', 'Here is the sms.');

To Modify Parameters before sending any SMS

function modify_sms_text($params)
{    
    //do your stuff here
    return $params;    
}
add_filter('sa_before_send_sms', 'modify_sms_text');

To get SMS Alert Service Response after Send SMS

function get_smsalert_response($params)
{ 
    //do your stuff here
    return $params;
}
add_filter('sa_after_send_sms', 'get_smsalert_response');